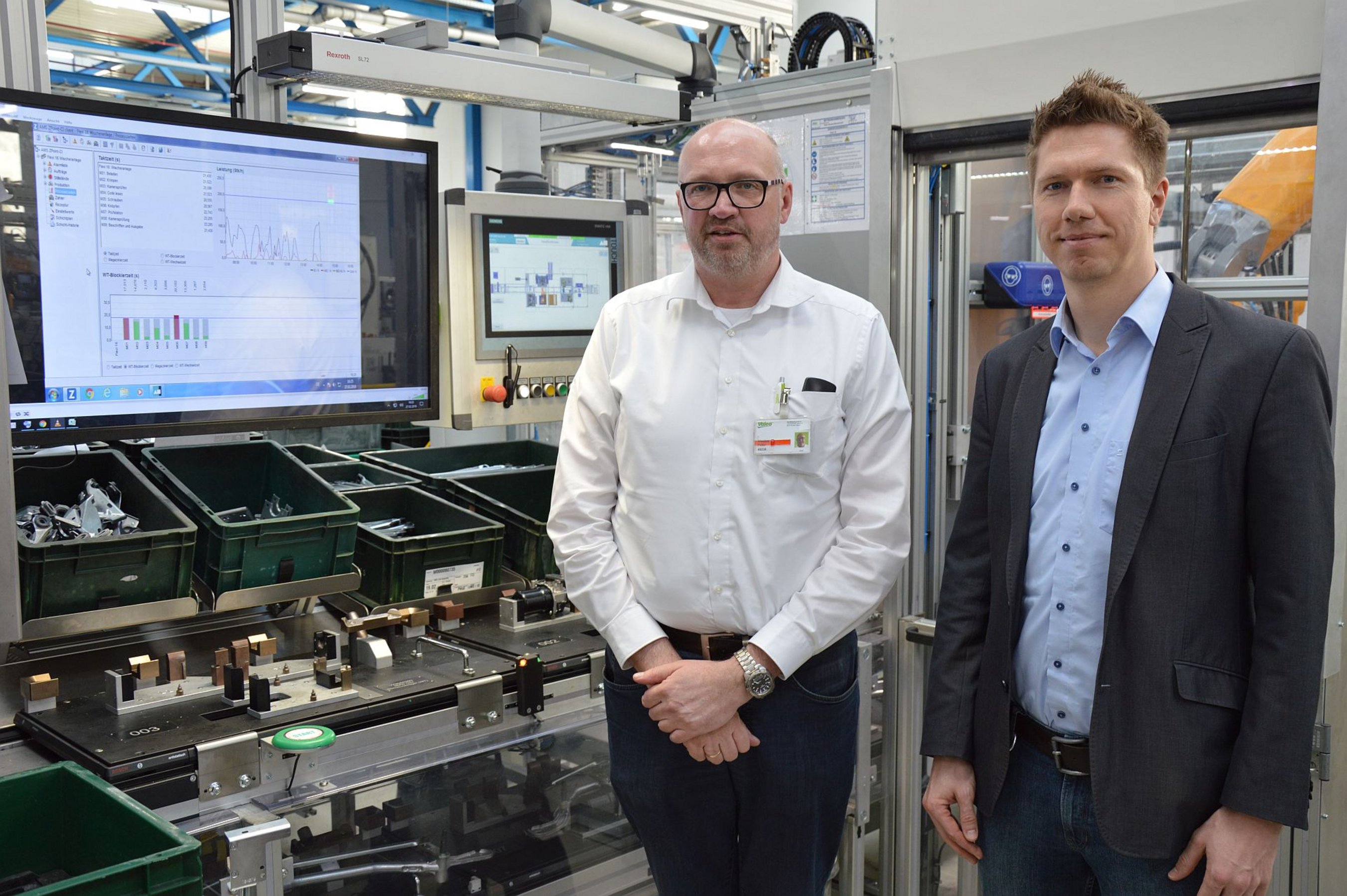 Valeo: Performant production start-up by means of STIWA analysis software
To increase efficiency of its machines, Valeo Wischersysteme GmbH relies on software know-how made by STIWA: The analysis tool is called AMS Analysis-CI, and it has been used to comprehensively optimize the ramping up of a production machine. The outcome: Higher quality and lower cycle times at clearly reduced lead time.
Innovative and powerful wiper systems offering optimum visibility for drivers any time day or night and improving driving safety: This is what Valeo Wischersysteme GmbH stands for. The company is the worldwide leading provider and driver for innovation of windscreen and rear window wiper and washer systems producing more than three million wiper systems at the Neuses location.
Large quantities require stable processes
For serial production of this magnitude, high quality and short cycle times count as key factors for efficient and cost-effective production. "The time factor will often make the difference between success or failure: "The better and more effectively the machine is ramped up, the shorter the time-to-market will be", summarizes Alexander Meisinger from STIWA Manufacturing Software.
Comprehensive STIWA know-how
For the first time, Valeo choose an IT-assisted machine ramp-up implemented by the Austrian automation specialist STIWA to ensure an efficient and transparent production start of its new wiper system Flexi 16 at the Neuses location. "Being an experienced production company that has been manufacturing its own machines for years and optimizes them by means of specifically developed analysis software, STIWA was our supplier of choice. This competence from development to manufacture distinguishes them from other mechanical engineering companies or system vendors", says Peter Nieslon, the head of Industrial Engineering with Valeo Wischersysteme GmbH in Neuses.
Quality assurance right from the start
"For more than 20 years, we have relied on the data recording and analysis of all motions of the machines. Due to our highly performant, scalable, and adaptable manufacturing software - and primarily due to our analysis tool AMS Analysis-CI - problems and interrelations can be revealed "live" during the ramp-up phase. Advanced Analytics play a key role in it", say STIWA Application Engineers Thomas Langthaler and Patrick Meisinger, who were responsible for the successful connection of the software tools within Valeo.
Successful cooperation
For the successful machine ramp-up, an interdisciplinary team was put together - consisting of the machine operator Valeo, the manufacturer, as well as the software specialists from STIWA. "Our aim was to increase machine transparency and to stabilize all processes as quickly as possible to get to serial production without problems", says Nieslon. The software was connected and put into service directly at the machine manufacturer, while the ramp-up process was supported in Neuses. Therefore, well-founded data was already available in the ramp-up phase. "A major advantage contributing to the fact that machine utilization can be optimized within a shorter period of time", informs Langthaler. The data were recorded and depicted at the STIWA machine control center AMS ZPoint-CI which ensured the integration of measuring data stock at the earliest possible time.
Comprehensive set of measures
Machine, operating and quality data were recorded over several weeks, and performance, availability, and quality were optimized. Via the quality data analysis, for example, a workpiece carrier which frequently produced defective parts could be identified and exchanged within a very short time. Moreover, via the cycle time analysis, the slowest manufacturing module - and thus the one determining the cycle time - could be established. The machine was adapted together with the equipment manufacturer, which resulted in an increased output of the whole machine. Additionally, frequent limit violations of measured values within the scope of a time-process analysis revealed that certain manufacturing processes were getting worse as production progressed - in most cases because of wear. As a consequence, STIWA introduced process monitoring: in the future, an advance warning system will warn the system operator in good time so he can provide for the required maintenance or correction before any losses occur.
Stable manufacturing processes
In daily operation, too, the STIWA software used by Valeo helps to enhance the efficiency of production both technically and economically: "The transparent provision of all required data and the rapid failure analyses have helped us to achieve a consistent OEE increase already in the ramp-up phase. Moreover, the continuous documentation of the serial numbers allows access to all process parameters - traceable to each individual part produced in serial production. This easy handling in process optimization and the automated reporting makes the work of our employees in production, maintenance, or production planning a good deal easier every day", summarizes Nieslon. When it comes to the next start-up, Valeo will continue the good cooperation with STIWA: "Nobody else but STIWA provides practical software solutions offering such ease of use. Therefore, I am looking forward to the next projects."